A Warm Welcome From Innate Chiropractic & Wellness Centre
South Granville Chiropractor Offers One of a Kind Family Wellness Care
Our mission at Innate Chiropractic & Wellness Centre is to honor everyone's innate capacity to heal and be healthy. We provide quality chiropractic care and restore spinal and nervous system function. We are passionate about helping women make healthy, natural choices for their pregnancy and family. Our vision is an empowered community helping each other lead a healthier lifestyle.
"Health is a journey and I look forward to being a part of your journey." – Dr. Nand
South Granville chiropractor, Dr. Rozeela Nand encompasses the World Health Organization's definition of Health: a state of mental, emotional, physical, and spiritual well-being and not just the absence of symptoms. This is why at Innate Chiropractic & Wellness Centre all aspects of your health will be examined and a care plan that includes spinal adjustments, nutritional counseling, home exercises, ergonomic analysis and ongoing education will be given. Our goal is to focus on all of these areas and get you functioning at your optimal level so you can live your life to the fullest.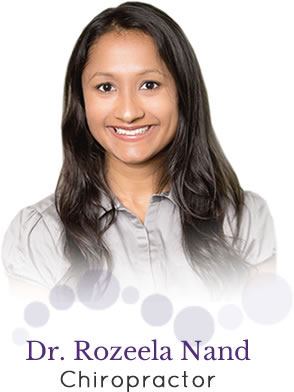 We Love Families
Much of the focus in our practice is on families. We encourage ALL members of your family to reap the benefits of natural chiropractic health care. Regardless of who you are and what you do, you deserve to be active and pain-free!
You Can Count on Us
At Innate Chiropractic & Wellness Centre we are dedicated to finding the underlying cause of your health problem and preventing future injuries. We will address your symptoms, facilitate healing and help prevent future injuries. Our goal is to help you maintain your good health through lifestyle and nutritional counseling, home exercises, orthotics, spinal adjustments, ergonomic analysis and ongoing education. Even if you have a difficult or challenging problem, you can count on Dr. Nand to get to the bottom of it. "I can help you. If further treatment modalities are needed, I have a wide network of experienced natural healthcare practitioners that can bridge the gap." Call today or visit our conveniently located practice in the heart of South Granville where we thrive on the natural beauty of Vancouver's mountains as we work at helping you heal. We'd love to hear from you!
---
Dr. Rozeela Nand | South Granville Chiropractor | (604) 736-5157 Serving South Granville & Vancouver Families