About Innate Chiropractic & Wellness Centre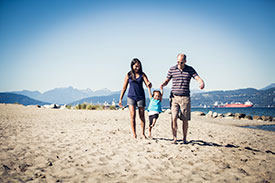 Listen to Your Innate Intelligence
My chiropractic philosophy is 'The power that made the body, heals the body.'
I believe that there's an innate intelligence inside each of us that knows what our body needs and knows what to do. One of my passions is to help my patients connect with themselves, using this innate intelligence. If we can learn to listen to our bodies, we'll always know precisely what's going on and what to do.
Chiropractic adjustments assist your body's natural (innate) healing potential by taking pressure off the nervous system and allowing your body to do what it does best, heal itself. This is the state that I want for all of my patients.
Building a Healthy Community in Vancouver
Our practice members are a community of like-minded people, a community within a community, of people that share a love of natural healing. Our warm and friendly environment makes Innate Chiropractic & Wellness Centre a place our patients love to come back to and love to refer their family and friends to.
Once a patient is out of pain and on the road to recovery, it's my goal to educate that patient about not only chiropractic, but also all facets of natural health care. I accomplish this through:
Monthly "Power Workshops"
Educational materials on all methods of natural healing
Health tips for outside of the office care
Spinal Hygiene exercises to stretch and strengthen the spine
A variety of cutting-edge chiropractic techniques to get you out of pain
Cooking wholesome, nutritious meals and sharing the food at office meetings or workshops
Corporate Wellness talks for local businesses
Special Certification
Although Dr. Nand cares for all patients and all conditions, she has a keen interest in pregnancies and pediatrics. She is certified through the International Chiropractic Association. The certification program was an extra year after the chiropractic qualification; which included lectures, exams, and hands on training. She has published work in the international-selling magazine, The Mother. Copies of her articles are available in our office.
If you want to get well and stay well, give us a call today at (604) 736-5157. We can help you get back to the life you love and the life you deserve to live. Schedule your appointment today!
---
Dr. Rozeela Nand | South Granville Chiropractor | (604) 736-5157